Meet the Conference Team - Freddie Porter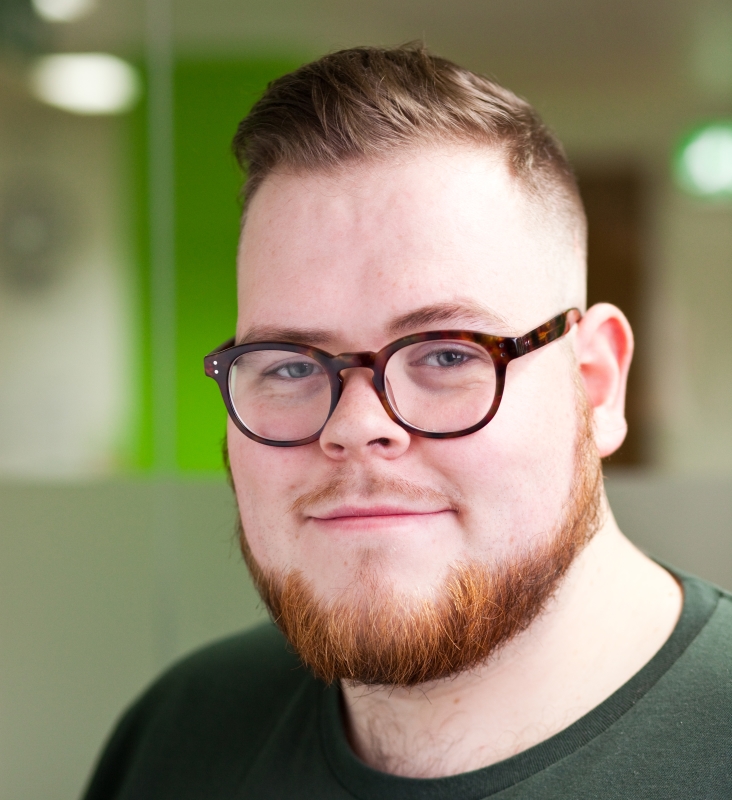 Product Owner at Spektrix
Co-running a session on how focusing on desired outcomes can help you deliver more value through change
Favourite Leeds Haunt? Laynes Espresso ☕
Tell us a little bit about yourself and what you do at Spektrix
I'm Fred, one of two Product Owners here at Spektrix. I work in all areas of our business, acting as a link between the software development teams, who make Spektrix and our clients and client facing teams. I make sure that we're continually delivering value with our product updates and that we are constantly challenging ourselves in the development team to deliver value as quickly as possible. It's an ever changing process, but we're doing better every day.
What were you doing before Spektrix?
Before Spektrix I was actually a client at the lovely HighTide Festival. In total I have six years of experience either volunteering or working in UK arts. I've worked in both NPO and commercial venues and in roles such as Box Office, Marketing, Fundraising and Production. Spektrix Conference was actually what enticed me to join Spektrix as I always left the conferences feeling so inspired by the potential of the arts industry it made me want to work in a place where I could really help drive that potential forward on a large scale.
What's an average day at Spektrix for you?
One of the main reasons I love my role is that no two days are the same. I'm constantly being challenged and pushed in different directions. I spend a lot of time with the development team, making sure that they have all the knowledge they need to be able to make changes that deliver value to our clients. Outside of that, I also spend a lot of time talking to clients, finding out more about their problems and thinking about what outcomes would benefit them most.
What does leading for change mean to you?
Leading for change for me means challenging yourself. To do that, you have to be able to ask 'why' all the time and constantly fight assumptions. We're all human and we tend to enter situations with natural biases or preferences. But in order to really implement true change that is valuable, it's really important to set aside preconceptions or past judgements and focus on solving problems in the best way possible. I think this is especially true in the arts sector where resources are incredibly precious, margins are slim and the product, for the most part, is ephemeral. The pressure to get things right the first time round and constantly improve is overwhelming. Bearing that in mind we must be in a position where we can focus on making the most of every resource and really challenge ourselves on what that means to constantly push for success.
What are you most looking forward to at this year's Spektrix Conference?
Meeting with clients and industry partners. Before my role as a Product Owner, I was a member of the Support Team for 18 months and I really enjoyed catching up with our clients every day, hearing and seeing the great things they were doing. It's a great opportunity to see what's happening in the sector and to sniff out the issues affecting our clients. I can't wait to hear the latest.
What would your advice be for someone attending the conference for the first time?
When I first came to Spektrix conferences in 2014 and 2015 as a client, I was very nervous. I was from a small venue and wasn't sure that I would be able to contribute anything. I spent a lot of time being a bit of a wallflower and not engaging much, but instead absorbing. Looking back, one thing I wish I had done was participate more. Not only in breakout sessions, or in asking questions at keynotes, but to be more present generally. We're very busy all year round in the arts and it's hard to put time aside to catch up and learn from each other. In the end, we're all working towards a common goal - cultural enrichment. So, my advice is to put your fears and worries aside about meeting people or awkward conversations and just go for it. Go out of your way to speak to people you've not met before, ask questions, learn from others, stay for a drink, catch up and, most importantly, have a great time. I urge you not to be a wallflower - you've got nothing to lose from branching out.
What are you most looking forward to in Leeds?
My favourite place in Leeds is Laynes Espresso in New Station Street. It's a gorgeous little coffee shop that is well worth a visit. I'd highly recommend popping in on your way to the conference to give you that caffeine boost before getting inspired!